Health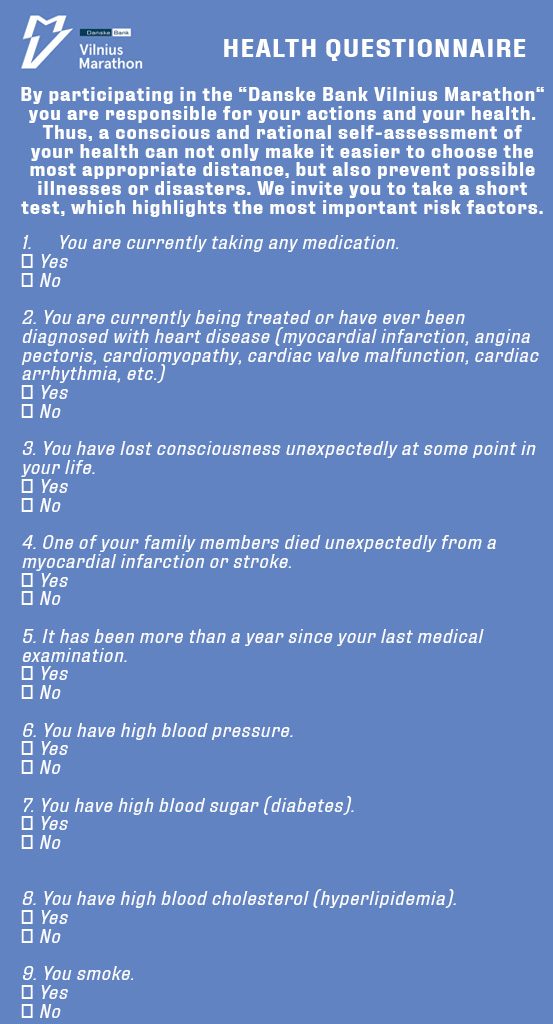 If any of the above statements are appropriate for describing your health, we recommend that you consult with your family or sports doctor about your participation in the "Danske Bank Vilnius Marathon".
We highly recommend consultations with doctors and diagnostic tests for those who intend to run the longest distances (42,195 k and 21,098 k).
This health questionnaire is designed only to give you a closer look at your health and your ability to participate in the "Danske Bank Vilnius Marathon".
A marathon is a running distance of 42.195 km that demands both, physical and mental preparation. You should not start if you have any health problems or feel uneasy on race day. Even a temporary cold or minor pains could be an indication that this running distance is potentially harmful and even dangerous. If you are not completely sure about your preparation, we would recommend consulting with medical specialists.
Important information before "Danske Bank Vilnius Marathon"
HEALTH

Before the run
Running day
After the run
·       Relax your body and mind (do stretching exercises, watch a motivational movie, listen to your favorite music);

·       Sleep the night before a run;

Evaluate your chances of attending an event if:

• have symptoms of colds (headaches, elevated temperature, etc.)

• suffered an injury;

• tiredness (muscle pain, general feeling of weakness);

• feeling stressful – breathing, stretching exercises;

• Allow your body to cool down (cooling takes 10-15 minutes or as long as your body needs);

• Move slowly and rhythmically until the body returns to rest;

• If you feel pain, nausea, or any ailment you should immediately go to the emergency department.
MENU

Before the run
Running day
After the run
·       Avoid dramatic changes in your diet, always having only carbohydrates;

·       Avoid alcoholic beverages;

·       Make sure of the quality and reliability of your nutritional supplements before starting taking them;

·       Eat easily digestible food;

·       Avoid drinking coffee just before start.

·       Be sure to eat a low-carb breakfast – oatmeal, buckwheat, fruit, egg whites for longer energy;

·       Do not eat anything a few hours before running;

·       Gently sip water;

·       Immediately after a run, eat a high-carbohydrate meal (eg banana) or a chocolate milk drink;

·       2 hours after the run it is recommended to eat (Avoid oily meals).
IMPORTANT TO KNOW

Water
Clothing
Running
·       Start drinking water a few hours before start;

·       While jogging refresh yourself when you are thirsty;

·       If you see the water stop during the marathon – drink some water, it is better to drink more often in small doses;

·       During the marathon, the human body needs about 3 liters of water. Mineral supplements should also be used in competitions lasting more than 4 hours.

·       Pay attention to the weather: wear a hat, dress so that it is not too hot and you wouldn't have to undress a lot;

·       Stick the patches in the most sensitive areas if you suspect that annoying rubbing may occur;

·       In the evening before the run, cut your toenails, make a relaxing foot bath;

·       Avoid running with new footwear or clothing and wear comfortable clothes that will not bother you.

·       Don't start at a high, unusual pace at the start of the race;

·       If it becomes difficult to keep a steady pace – slow down, run in conjunction with pacemakers;

·       When you are tired, slow down the pace and keep your strength to the finish;

·       Remember that withdrawing from a race if you are tired or injured is not embarrassing but more welcome.
Information prepared by: Vilnius City Public Health Bureau
Most importantly, enjoy the race even if you are not participating. Watch it and cheer on your fellow runners! After all, your health is the most important thing.