Health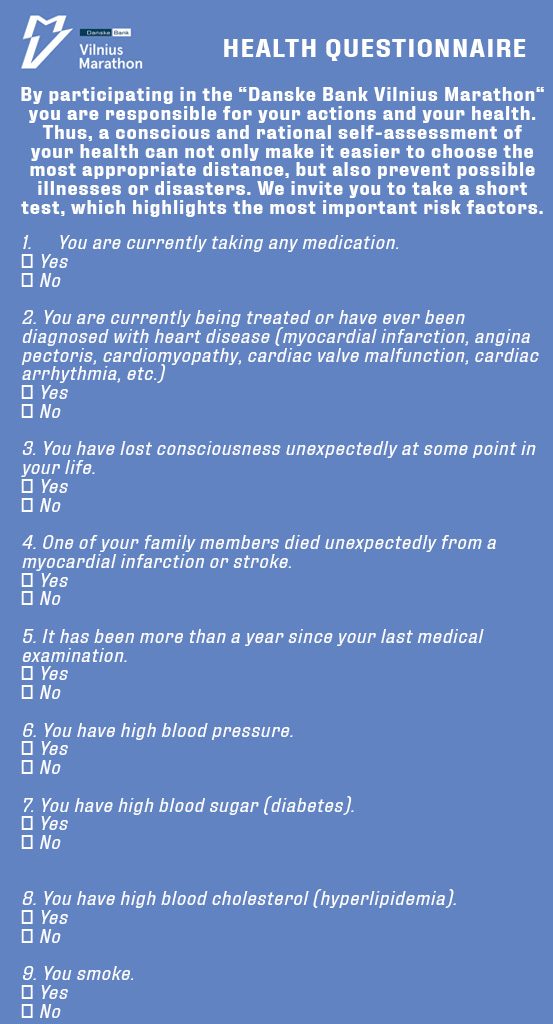 If any of the above statements are appropriate for describing your health, we recommend that you consult with your family or sports doctor about your participation in the "Danske Bank Vilnius Marathon".
We highly recommend consultations with doctors and diagnostic tests for those who intend to run the longest distances (42,195 k and 21,098 k).
This health questionnaire is designed only to give you a closer look at your health and your ability to participate in the "Danske Bank Vilnius Marathon".
A marathon is a running distance of 42.195 km that demands both, physical and mental preparation. You should not start if you have any health problems or feel uneasy on race day. Even a temporary cold or minor pains could be an indication that this running distance is potentially harmful and even dangerous. If you are not completely sure about your preparation, we would recommend consulting with medical specialists.
Important information before "Danske Bank Vilnius Marathon"
You must consult a medical specialist and go through necessary tests if:
You are currently using medication from high blood pressure, blood thinning medicine or any other type of prescription medication.
Have heart problems, have complained about abnormal heart rate (arrhythmia), have or had issues with myocardial disease, epilepsy or similar medical cases.
We recommend to reconsider your participation if:
You have high fever on race day. Running will demand far more energy, especially if you have had experience with any of the medical conditions mentioned above.
You had a virus a week before "Danske Bank Vilnius Marathon" – fever, felt muscle pains and/or were treated with antibiotics. These factors have an impact on your body's immune system and prevent the cells from reproducing fast enough to cope with high levels of physical activity.
You feel symptoms of a cold on race day: sore throat, dizziness.
You have injured your ankle, feel pain in your Achilles tendon, your knees are swollen or hurting.
Preparation a day before the marathon:
Fill out the other side of your running bib with your name, last name, telephone number, important information about any medical conditions and medication you are prescribed.
Try to eat food with lots of carbohydrates to provide energy.
Drink enough liquids. Runners sometimes forget this rule, especially when the race is further away.
If the marathon starts early in the morning, not eating late at night will give your body enought time to digest and also sleep better.
Cut your toe nails and refresh your feet.
On race day:
Do not shock your body with unfamiliar food. Make sure to get some energy and drink enough liquids.
Put cream, special balm or vaseline on your thighs and upper arm to prevent fricton
Tape your nipples with medical tape
If you easily geet blisters, put special band-aids in the most common places to prevent them from causing pain.
If you feel nervous, lie down on the bench and breathe deeply. You can also try listening to music or simply chatting to other participants.
The importance of liquids
You are going to lose a lot of liquids during the race, so make sure to start hydrating yourself several hours before the start. During the race drink when you feel thirsty. We recommend drinking one or two cups at each of the refreshment zones, which will offer both, water and isotonic drinks. Avoid large amounts of water – overhydration is dangerous.
During the marathon an individual needs around 3 liters of liquids. If the race takes place more than 4 hours during warm temperatures you should also use mineral supplements.
Care about yourself
Do not try to run at previously unfamiliar speed, find your own pace. If it becomes difficult to maintain the same pace, follow one of the time pacers. If the weather is hot, make sure you have a cap or any other protection from the sun. If you are tired, slow down your pace and save your energy for the finish line. Remember that there is nothing shameful about withdrawing from the race if you are tired or injured. If you feel nauseous, visit any of the medical stations or contact medical volunteers on the race course. They will be able to assist you properly and call the operative medical team if needed.
Most importantly, enjoy the race even if you are not participating. Watch it and cheer on your fellow runners! After all, your health is the most important thing.