"RIMI" HALF MARATHON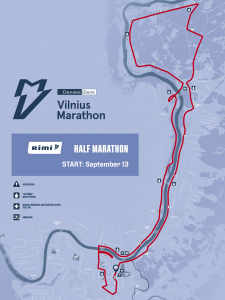 START
"RIMI" half marathon will start at 9:50 a.m. and 10:30 a.m.* on the 13th September 2020 at Cathedral square (Šventaragio street).
*When the allowed number of the participants is reached, the newly registered participants will be included in the second start of their distance.
TIME LIMIT
There is a time limit of 3 hours  for the Half Marathon.
START CORRIDOR
In the start corridor, participants of "RIMI" half marathon have to take their place according to the time zone stickers. Start zones will be marked with balloons and information stands. Start corridor will be closed 10 minutes before start.

MINIMUM AGE
"RIMI" half marathon participants must be 16 years or older on the day of the event.
All the participants under 18 years have to bring printed and signed parental consent form of one of the parents or legal guardians.

FOOD AND DRINKS ON THE RACE COURSE
There will be 8 stops in total: water and isotonic drink stations every 2.5k.
FIRST AID IN CASE OF AN EMERGENCY
There will be 11 first aid cyclists moving along the course constantly. 5 ambulances with professional equipment will be stationed along the course.